---
United Reclaim 2nd in Rich List - Noucamp99 - 22-01-2015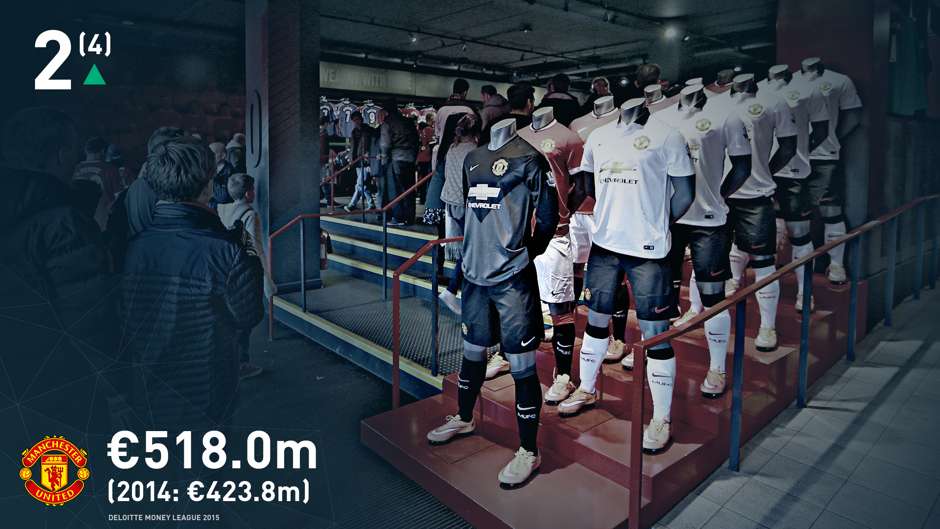 Quote:Manchester United may have had their worst season for two decades last year but they have reclaimed second spot in the list of the world's richest football clubs.

Only European champions Real Madrid stand ahead in terms of income, while Barcelona by contrast are struggling to keep pace financially with their Spanish rivals, United and Bayern Munich.

The Football Money League compiled by Deloitte sees Real established at the top of the tree for the 10th year in succession, with revenues of £459m, while United are on £433m, Bayern £407m and Barcelona £405m.

Source: skysports.com

Read more at http://www1.skysports.com/football/news/11667/9655027/deloitte-money-league-manchester-united-second-only-to-real-madrid

Also see:

http://www1.skysports.com/football/news/11095/9655214/deloitte-money-league-man-utd-second-to-real-madrid-in-the-revenue-list-as-man-city-chelsea-arsenal-and-liverpool-make-up-top-10


---
RE: United 3rd in Rich List - Noucamp99 - 07-05-2015

Forbes' top 10 most valuable teams of 2015:

1 Real Madrid £2.13bn

2 Barcelona £2.07bn

3 Manchester United £2.03bn

4 Bayern Munich £1.54bn

5 Manchester City £905m

6 Chelsea £898m

7 Arsenal £859m

8 Liverpool £644m

9 Juventus £549m

10 AC Milan £508m

2015 results in


---
RE: United Reclaim 2nd in Rich List - Noucamp99 - 25-05-2016

Despite a poor season, United still earned a few pennies from the Premier League and TV money:

Premier League prize money

Arsenal £100,952,257
Man City £96,971,603


Man Utd £96,477,120


Tottenham £95,222,320
Leicester £93,219,598
Liverpool £90,506,139
Chelsea £87,273,407
West Ham £85,765,168
Southampton £84,763,807
Everton £83,039,314
Stoke £79,540,748
Swansea £75,813,533
Watford £74,571,128
West Brom £73,328,723
Newcastle £72,846,635
Crystal Palace £72,086,318
Sunderland £71,845,274
Bournemouth £70,843,913
Norwich £67,116,698
Aston Villa £66,622,215

Total £1,638,805,918
---
The rules of the 2015-16 season mean that 50 per cent of UK broadcast revenue was split equally, ensuring the 20 clubs banked £21.9m each.

Overseas television revenue and central commercial revenue were also divided across the teams, paying out another £29.4m and £4.5m respectively to every top-flight club.

Teams then received different 'merit payments' depending on their placing - spanning from £24,848,100 for Leicester to £1,242,405 for Villa - and 'facility fees', which is dictated by the number of times they appeared live on television.


---
RE: United Reclaim 2nd in Rich List - Noucamp99 - 31-05-2017

The Premier League's growing financial muscle is highlighted in the latest study of leading European clubs by professional services firm KPMG, with Manchester United taking top spot for most valuable club.

Now in its second year, the report looked at the finances of 39 clubs based on their popularity on social media channels, revenues for the 2014/15 and 2015/16 seasons, and success in European competitions.

The clubs were then ranked by enterprise value, an accounting measure used to assess how much it would cost to buy any given club or company as it includes a business's total debt, with KPMG using its own formula to reach these valuations.

Despite two relatively disappointing seasons on the pitch between 2014 and 2016, United's value surged clear of Real Madrid and Barcelona last year, as they became the first club to break the £2.7bn mark for enterprise value.

Read more at http://www.skysports.com/football/news/11661/10899136/man-utd-top-europes-value-list


---
RE: United Reclaim 2nd in Rich List - Noucamp99 - 31-05-2017

Top 10 European clubs by 'enterprise value'
Manchester United -3.09bn euros
Real Madrid - 2.97bn euros
Barcelona - 2.76bn euros
Bayern Munich - 2.44bn euros
Manchester City - 1.97bn euros
Arsenal - 1.95bn euros
Chelsea - 1.59bn euros
Liverpool - 1.33bn euros
Juventus - 1.21bn euros
Tottenham - 1.01bn euros

Source: KPMG


---