CONFIRMED: Adnan Januzaj Loaned Out
01-09-2015, 08:34 AM
Noucamp99
Forum Captain!


Posts: 3,458
Joined: Mar 2009
Reputation: 41
CONFIRMED: Adnan Januzaj Loaned Out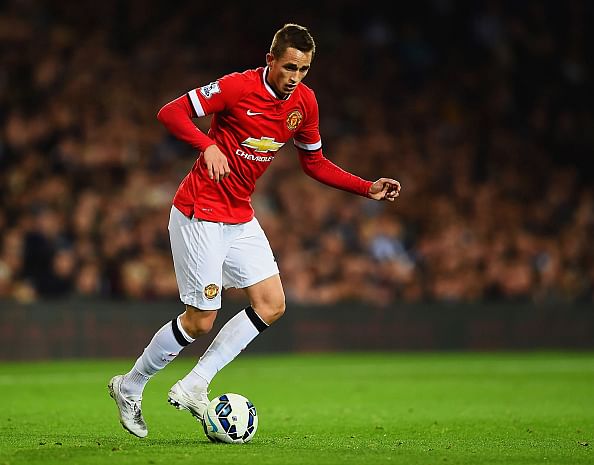 Quote:Adnan Januzaj has joined Borussia Dortmund on a season-long loan from Manchester United.

The young Belgium international was the first Reds player to score in the Barclays Premier League this season, when he netted the only goal in the 1-0 win at Aston Villa. He will now spend the rest of the campaign gaining some valuable experience in the Bundesliga.

Januzaj told the German club's website: "Borussia Dortmund are a great club. The fans here are supposed to be really incredible and I want to achieve great things with the team."

Dortmund's sporting director Michael Zorc said: "Adnan is a highly gifted and technically gifted player who completes our attacking department."

Januzaj has made 60 first-team appearances for United so far, since his debut against Wigan Athletic in the 2013 Community Shield. He has notched five goals, including a memorable double in a 2-1 win at Sunderland on his first start in the senior side.

The attacking midfielder inherited the famous no.11 shirt following Ryan Giggs' retirement, but he will wear no.9 in Borussia Dortmund's colours.
Source: manutd.com
---
Don't compare a lion to a human
12-11-2015, 09:19 AM
Noucamp99
Forum Captain!


Posts: 3,458
Joined: Mar 2009
Reputation: 41
RE: CONFIRMED: Adnan Januzaj Loaned Out
It doesn't look like things are going to plan for Adnan in Germany so far. He has only started 2 Europa cup matches and only finished the full 90 minutes once. He was on the bench again at the weekend.
The MEN looks at his progress in Dortmund so far:
Quote:Man Utd sent the 20-year-old to Germany at the start of the season but it hasn't worked out as planned.

Two Manchester United youngsters had differing fortunes at the weekend.

On Saturday, Jesse Lingard, making his first Premier League start of the season, scored his first United goal.

A day later, Adnan Januzaj was an unused substitute during Borussia Dortmund's 3-2 win over Schalke.

The two games took place 24 hours and more than 600 miles apart but the two incidents are linked. While Lingard is enjoying the transformation from youth team graduate to first-team regular, Januzaj's stock is falling.

A loan move that was billed as a way of aiding Januzaj's development is having the opposite effect. In three months in Germany the 20-year-old has started two games, both in the Europa League, completing 90 minutes once.

If Lingard's breakthrough moment was his goal against West Brom on Saturday, then Januzaj's came at the Stadium of Light in October 2013.

A second-half substitute against Wigan, Crystal Palace, Liverpool and West Brom, he started for the first time against Sunderland, scoring twice in a 2-1 win.

His form during the 2013/14 season was the one highlight of a disastrous campaign and kept David Moyes in a job until April when he might have been sacked months earlier.

Januzaj made 35 appearances in his debut season.

It was down to 18 under Louis van Gaal the following year. And despite starting four of United's first five games this season, and scoring the winner against Aston Villa, he was loaned to Borussia Dortmund on deadline day.

"Our first impression of Adnan is good," said Dortmund coach Thomas Tuchel soon afterwards.

"He's a very exciting, creative player but it will still take time for him to get used to us, to the defensive work and the training intensity too."

But judging by how little Januzaj has played since it seems Tuchel is still waiting.

He's lost his place in the Belgium squad for friendlies against Italy and Spain.

And if his situation doesn't improve it's likely he'll miss out on a place in the squad for the European Championship next summer.

It seems a long time since Belgium coach Marc Wilmotts suggested Januzaj's move to the Bundesliga could be as significant as Kevin de Bruyne's move from Chelsea to Wolfsburg.
Read more at
http://www.manchestereveningnews.co.uk/s...e-10416762
---
Don't compare a lion to a human
17-11-2015, 04:02 PM
ike
Old Subscriber


Posts: 23
Joined: Jul 2011
Reputation: 1
RE: CONFIRMED: Adnan Januzaj Loaned Out
It's kinda bitter sweet.
I want him to be a success and come back to OT.
But IF Adnan had shown he could be an effective striker, would we have brought in Martial?

Wondering if a loan move to a Championship side or another prem side would of done him more good. He needs games, compared to watching Lingard / Marital and Pierra ( round similar age ) at times he looks either unsure or just scared on the pitch. Maybe it's just lacking in confidence?
18-11-2015, 02:36 PM
Noucamp99
Forum Captain!


Posts: 3,458
Joined: Mar 2009
Reputation: 41
RE: CONFIRMED: Adnan Januzaj Loaned Out
Confidence a massive factor, but having said that, he was a shining light under Moyes and went backwards when LVG took over.
---
Don't compare a lion to a human
29-12-2015, 01:51 PM
Noucamp99
Forum Captain!


Posts: 3,458
Joined: Mar 2009
Reputation: 41
RE: CONFIRMED: Adnan Januzaj Loaned Out
Quote:ADNAN JANUZAJ could be coming home to Old Trafford early to salvage under-fire boss Louis Van Gaal's season and job at Manchester United.

United played out an oddly thrilling stalemate against the Blues today to leave Van Gaal's future still balancing on a knife-edge.

And Januzaj — who has had a miserable time at Borussia Dortmund with six appearances and no goals — was spotted on the hosts' bench alongside Jesse Lingard.

Januzaj, 20, is highly rated amongst the Red Devils' faithful, but was shipped out on loan to Bundesliga giants Dortmund in September for the season.
His return followed Sir Alex Ferguson's mysterious use of the manager's entrance at the Theatre of Dreams.

LVG also sold poacher Javier Hernandez in the summer, as well as loaning out promising young striker James Wilson to Brighton.

And with just three goals in their last six games, the Red Devils are desperate for some extra fire-power.
Source: Sun.co.uk
---
Don't compare a lion to a human
04-02-2016, 02:32 PM
Noucamp99
Forum Captain!


Posts: 3,458
Joined: Mar 2009
Reputation: 41
RE: CONFIRMED: Adnan Januzaj Loaned Out
Well of course, Adnan is back home, but was it all smiles while he was away? It would seem not...
Quote:Adnan Januzaj was unable to make an impression in the Bundesliga because he failed to detach himself from Manchester United, says Borussia Dortmund boss Thomas Tuchel.

Januzaj made only six substitute appearances and three starts in Europe for Dortmund before his loan spell was cut short.

The 20-year-old is now back at Old Trafford under Louis van Gaal's guidance and his last appearance came during Manchester United's defeat by Southampton.

uchel, who took over from Jurgen Klopp at Dortmund at the end of last season, questioned Januzaj's commitment to Dortmund during his time in Germany.

"A part of him was always still in Manchester and we just couldn't help him cut this umbilical cord," Tuchel told FourFourTwo.
Read more at
http://www.skysports.com/football/news/1...mas-tuchel
---
Don't compare a lion to a human