CONFIRMED: United RE Sign Paul Pogba
09-08-2016, 08:25 AM
(This post was last modified: 09-08-2016 08:27 AM by Noucamp99.)
Noucamp99
Forum Captain!


Posts: 3,458
Joined: Mar 2009
Reputation: 41
CONFIRMED: United RE Sign Paul Pogba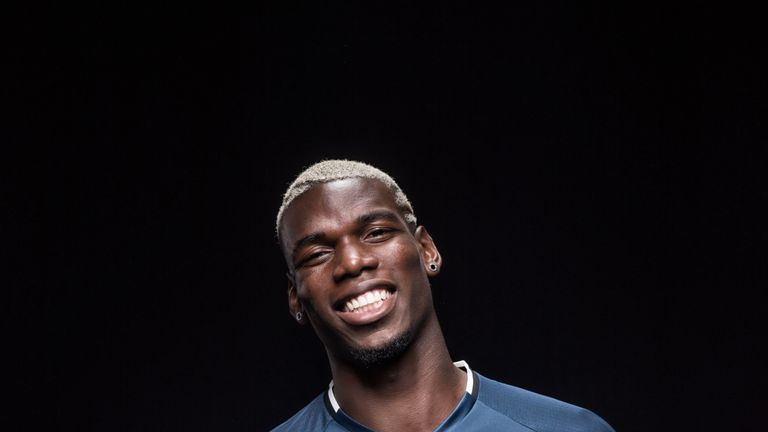 Press release from Manutd.com:
Quote:Manchester United is delighted to announce that Paul Pogba has completed his transfer from Italian club Juventus. Paul joins on a five-year contract, with the option to extend for a further year.

Paul, 23, has been with Juventus for four seasons, making 124 appearances and scoring 28 goals. He joined the Bianconeri from United in 2012.

The midfielder has been capped by France on 38 occasions, scoring 6 goals and was a member of the recent squad that reached the final of Euro 2016.

Paul Pogba said:

"I am delighted to rejoin United. It has always been a club with a special place in my heart and I am really looking forward to working with José Mourinho. I have thoroughly enjoyed my time at Juventus and have some fantastic memories of a great club with players that I count as friends. But I feel the time is right to go back to Old Trafford. I always enjoyed playing in front of the fans and can't wait to make my contribution to the team. This is the right club for me to achieve everything I hope to in the game."

José Mourinho said:

"Paul is one of the best players in the world and will be a key part of the United team I want to build here for the future. He is quick, strong, scores goals and reads the game better than many players much older than he is. At 23, he has the chance to make that position his own here over many years. He is young and will continue to improve; he has the chance to be at the heart of this club for the next decade and beyond."
---
And what has Paul had to say about his return?
"I'M HAPPY, JUST HAPPY"
Asked how he has changed since he was in the Academy, Pogba told MUTV: "Well, I was younger. Now I'm taller and bigger (laughs). It's just like… as I told you… it looks like I went for a holiday and I came back home. I was meant to come back here. I feel this. I always had this United thing in my heart and that's why I came back. I'm happy, just happy."
Source: MUTV
---
Don't compare a lion to a human
09-08-2016, 09:18 AM
ManUtdPeople
Website Manager!


Posts: 369
Joined: Mar 2010
Reputation: 8
RE: CONFIRMED: United RE Sign Paul Pogba
---
Admin.


ManUtdPeople.com
09-08-2016, 01:35 PM
Noucamp99
Forum Captain!


Posts: 3,458
Joined: Mar 2009
Reputation: 41
RE: CONFIRMED: United RE Sign Paul Pogba
While I am really pleased to see him back, is this the worst bit of long-term business any club has done? Released at the end of his previous contract, with a compensation value of £1.5m, then bought back for around £89m??

Wow! If only we all had crystal balls, so to speak
---
Don't compare a lion to a human
09-08-2016, 01:46 PM
Noucamp99
Forum Captain!


Posts: 3,458
Joined: Mar 2009
Reputation: 41
RE: CONFIRMED: United RE Sign Paul Pogba
Manchester United have committed up to £190 million in their sensational deal to bring Paul Pogba back to Old Trafford.
Pogba, 23, completed a medical in Manchester on Monday before signing a five-year contract with an option for another year.
United have agreed a world record £89m fee with Juventus with a further £4.2m in potential add-ons.
On top of the transfer fee paid to the Italian champions, the Red Devils will also pay 100 per cent of the money due to Pogba's agent, Mino Raiola, who had agreed a 20 per cent sell-on fee when the France international signed his last contract in 2014.
Ed Woodward, United's executive vice-chairman, is understood to have attempted negotiations over the £18.6m that would be due to Raiola and sources are remaining tight-lipped on exactly how much the super-agent will earn.
Pogba, 23, has agreed an enormous £300,000-a-week salary package including bonuses and will become United's joint top-earner along with captain Wayne Rooney.
That works out as up to £15.6m-a-year and £78m over the course of his five-year contract if Pogba triggers all of the bonus payments in the agreement.
It brings the total cost of the deal up to a maximum of £190m, with United hoping that trophies and commercial deals will mean the eye-watering sums will prove to be value for money.
Read more at
http://www.squawka.com/news/revealed-the...TwSAJju.99
---
Don't compare a lion to a human
21-06-2017, 01:31 PM
Noucamp99
Forum Captain!


Posts: 3,458
Joined: Mar 2009
Reputation: 41
RE: CONFIRMED: United RE Sign Paul Pogba
Quote:FIFA has confirmed it has not opened disciplinary proceedings against Manchester United over the £89m transfer of Paul Pogba.

Last month FIFA asked United and Juventus for extra information about the deal after reports emerged that agent Mino Raiola made £41m from the transfer.

Following an informal investigation, United are not currently facing any disciplinary action, though the world football governing body has begun proceedings against Juventus.

A FIFA spokesman said: "We can confirm that disciplinary proceedings have been opened against Juventus FC. We cannot confirm further as proceedings are ongoing. We can confirm that no disciplinary proceedings have been opened against Manchester United."

Extracts from a book, The Football Leaks: The Dirty Business of Football, published in Germany in May, claimed to give details on the huge deal, including a breakdown of the fee.

All international transfers must be authorised by FIFA, so Pogba's transfer was approved by FIFA in August using its International Transfer Matching System (TMS).

Manchester United insisted FIFA had received all relevant documents since the transfer was completed.
Source: SkySports.com
---
Don't compare a lion to a human